Census data provides details about this Raitt family - the following is taken from various free sources and the details could be expanded with occupations etc from the actual records from subscription services.
In the 1861 census for Bathurst Northern District, Gloucester is Anne Raitt, aged 47, head of household, born Ireland; and children James, 21; Isabell, 18; Alexander, 16; Thomas, 15: Charles, 12; Francis, 10. Husband and father Alexander Raitt was deceased by this time.
In the 1871 census for Beresford, Gloucester, New Brunswick is the family of the above son Alexander Raitt, 26, a joiner born New Brunswick but of Scotch origin; his wife Agnes H., 28, also born New Brunswick but of Irish origin; and their children Eleanor M, 3, born Quebec; and Charlotte A., 5m, born New Brunswick.
Alexander Raitt is then recorded alone in the 1880 US Census for Virginia City, Storey, Nevada as a carpenter, aged 35, born New Brunswick, Canada (as it says were both parents). Where his family is is not known as they do not appear to be in any census. However, Charlotte Raitt, aged 26 and a nurse in Boston, Massachusetts, married Harold E. Fales, aged 26, an attorney in Boston, on 17 November 1897 in Boston. Her birthplace is given as Bathurst, N.B. and her parents as Alexander R. Raitt and Agnes H. Raitt.
In the 1870 US census for Saratoga, New York Thomas Raitt is aged 24, born Canada, working as a photographer and with a personal estate worth $300. This is probably the son of Alexander and Anne Raitt above. Thomas is then found in the 1881 census for Bathurst, Gloucester, New Brunswick, aged 32, a photographer, born New Brunswick of Scotch parentage; with his wife Fyfe, 32, born New Brunswick, also of Scotch origin; and their children John A., 5; Charles H., 2; Mary P., 1 – all born New Brunswick. Thomas Raitt and his wife Fyfe and family are next recorded in the 1900 census for Wisconsin, having emigrated to the United States in 1881 (though they may also be the family recorded in 1895 in Wisconsin). Their sons John A. and Charles H. Raitt are later recorded in Montana and Minnesota – more details, including about Thomas, will be found under American Raitts.
Living nearby to Thomas in Bathurst in 1881 and living in a hotel is elder brother James Raitt, 41, a carpenter, born New Brunswick, but of Scotch origin.
Living in Osgoode, Russell, Ontario in 1881 are Francis F. Raitt, 30, a farmer, born New Brunswick, but of Scotch origin; and Ellen, 36, born Ontario, but of Irish origin. In 1891 they are farming in New Westminster, British Columbia. Francis was the youngest son of Alexander and Ann Raitt.
In the 1891 census for New Westminster are F. F. Raitt, 41, farmer; and his wife Ellenor, 49 – they had clearly moved back from Ontario where they were in 1881 (see under Canadian Raitts.) Francis Frederick Raitt died in Victoria, New Brunswick on 16 December 1899 aged 48.
-----------
There was also the family of James Rait, almost certainly from Scotland, who was a respectable merchant and ship owner in St Andrews, New Brunswick. He subsequently moved to Jamaica, where he died. Other members of his family moved to Brooklyn, New York. A separate page has been created for the family.
-----------
There are several other Raitt families in Canada at this time, and before, in Alberta, Ontario and British Columbia - but whether they are related to Alexander Raitt from New Brunswick has not yet been ascertained. There is also an Alexander C. Rait from Scotland who bought land to farm in Wisconsin in 1869 (see under American Raitts) - whether he was known to his namesake's sons who moved to Wisconsin from Boston is not known!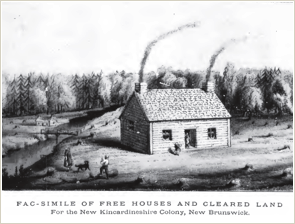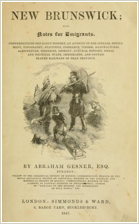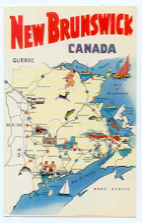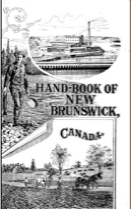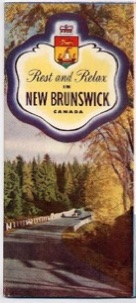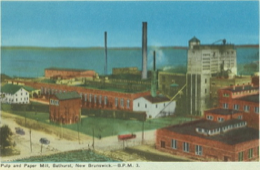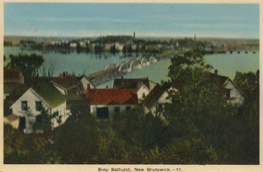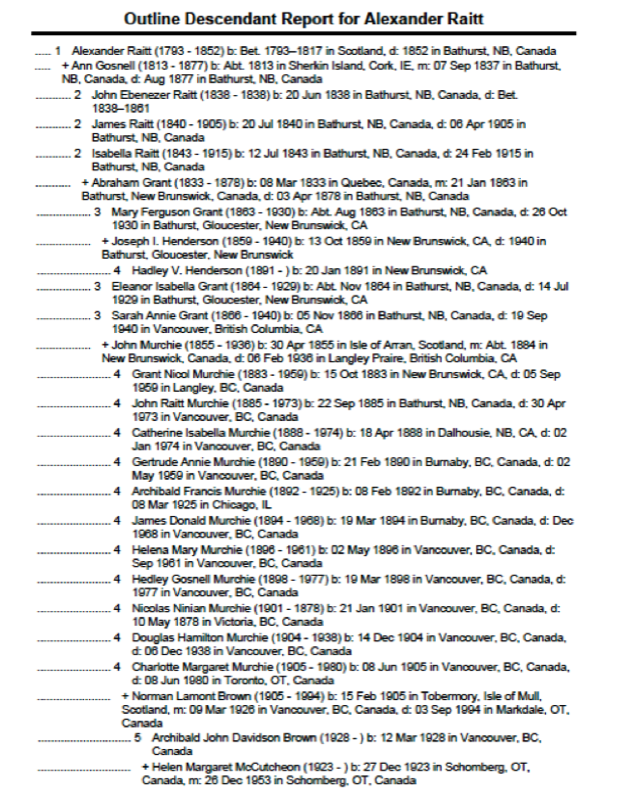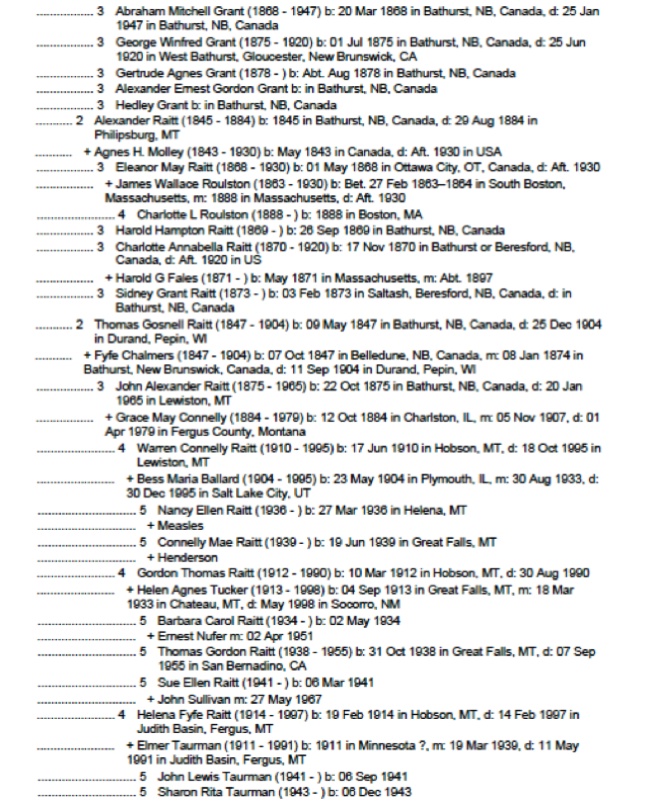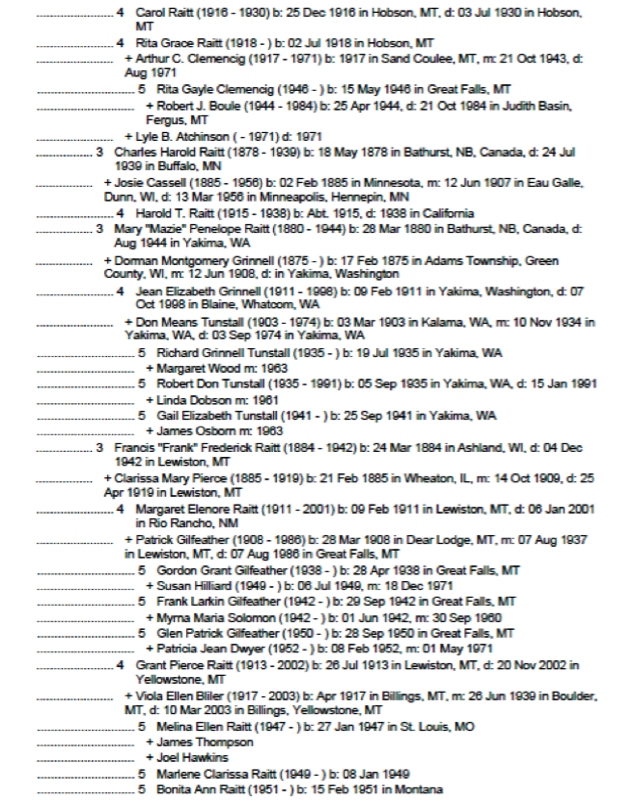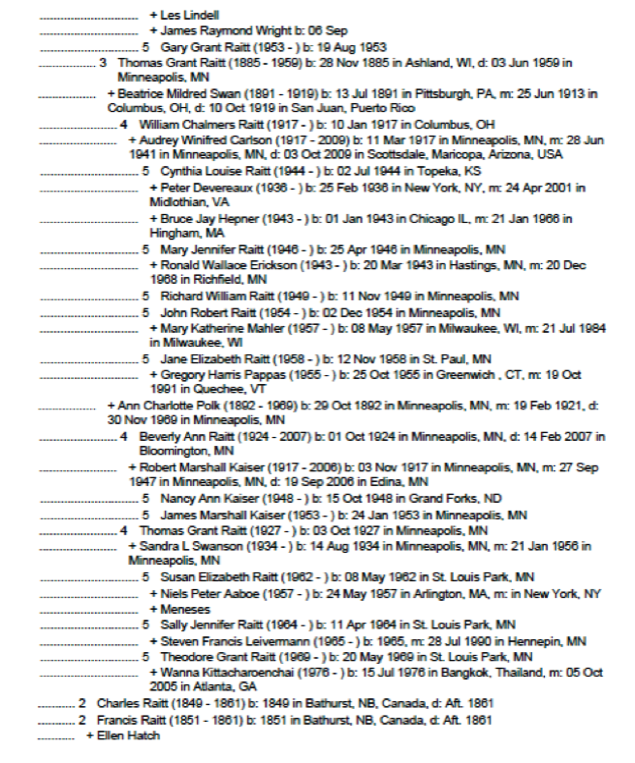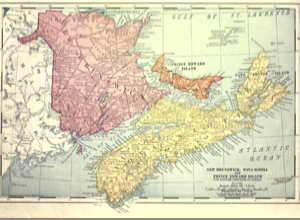 Alexander Raitt Notes
Family tradition surmizes that Alexander Raitt was born between 1793-1817 (a rather large span) in Scotland and that he went to North America between 1820-1830. He certainly married Anne Gosnell on 2 Sep 1837 in Bathurst, Gloucester, New Brunswick. She was born in 1813, thus was 24 when she married. But would Alexander have been much older? How old was he when he fetched up in New Brunswick? Why there? Did he emigrate? Was he alone or with other members of his family?
A quick look in the LDS International Genealogical Index for Alexander Raitts born in Scotland within twenty years of 1800 does not in fact show too many individuals. Though actually, there is an Alexander Raitt mentioned in IGI as being born about 1812 (no place) who married Anne Gosnell on the right date and in the right place. Where this date comes from is probably just a guess based on Anne's date of birth.
In fact, in the end I used a cut-off date of 1800 - surely Alexander would not have been more than 15 years older than his wife. Assuming he was older than her, we can probably discount the Alexander Rait chr 9 Sep 1818 in St Vigeans, Angus and the Alexander Raitt b 29 Mar 1817 in Creich, Fife. We could probably also discount, using the same logic that he'd be a bit too old perhaps, the Alexander Raitt b 27 Aug 1800 in Dundee, Angus, the Alexander Rait b 24 Dec 1800 in Arbroath, Angus and the Alexander Rait chr 17 Apr 1803 in Edzell, Angus. That leaves us with: Alexander Raitt b 25 Nov 1815 in Kintore, Aberdeen; Alexander Reat 6 May 1814 in Dyke, Moray; the Alexander Rait b 13 Jan 1810 in Inverkeillor, Angus or the Alexander Raitt b 5 Feb 1807 in Inverkeillor, Angus.
Taking the 1841 Scottish census in which, in principle all these people should appear unless they had either left the country or died, we find that in fact only two possible are present: only one of the Angus ones are present (Arbroath 1800 - though he is spelled Rait) and one in Aberdeen aged 35, thus born about 1815. So that doesn't take us too far forward!
***********
The tree below shows the descendants of Alexander Raitt.
As noted elsewhere, I am contacted from time to time by other Raitts who appear not to be connected at first glance to either my side or our American side. In a blog entry I mention one Alexander Raitt of Scotland who set sail for the New World in the 1820s or 30s. Whether he first landed in America (an Alexander Raitt did arrive in New Hampshire in 1825) or whether he went directly to Canada is not known. What he did in his early days in Canada is also not known - maybe he was a trapper or a farmer; however, he ended up at some point in Bathurst, New Brunswick. There he married a young Irish girl, Ann Gosnell, from Sherkin Island, Cork who emigrated with her parents to Canada in 1832 (see also blog entry and Raitt Anecdotes). Alexander and Ann married in 1837, settled down and had seven children. After Alexander's death about 1851 (his death record was probably amongst those Presbyterian church records destroyed in a fire - along with the 1851 census records for the county), his wife Ann lived ten more years and ran a boarding house in Bathurst.
Two of Alexander's sons, Alexander and James, were carpenters in St Peters, just across the river from Bathurst. Another son, Thomas, married a girl (Fyfe Chalmers, born in New Brunswick in 1846) from the next town in 1874 and three children later they decided to move across the border to Boston. After a brief sojourn there, they moved to Wisconsin in the early 1880s where Thomas became a ferry boat operator and later ran a photography studio. His brother Alexander also went to Boston and then to Wisconsin, perhaps with Thomas and Ann. Alexander continued on from Wisconsin and went to work in a Montana silver mine, where, as a carpenter, his job was probably to construct timber supports for the mine. He was killed in an explosion there in 1884. Thomas's youngest son, also named Thomas, eventually moved on to Minneapolis, Minnesota while other siblings settled in Montana and Washington. These families are still thriving today and maintain their interest in their Raitt ancestry (see also under American Raitts).
Exactly who Alexander was, however, and where he came from in Scotland is not yet known (see notes below), despite considerable efforts of the family to ascertain this. Thomas's eldest son, William Chalmers Raitt, visited Bathurst twice to try and discover more. He and his wife Audrey also made several trips to Scotland to visit Rait Castle. On their second trip, they were invited to Cawdor Castle by the Earl of Cawdor, where they learned more about the castle and its fascinating history. William eventually wrote up his findings in the History of the Raitts which he presented to a Raitt family reunion in 1987.